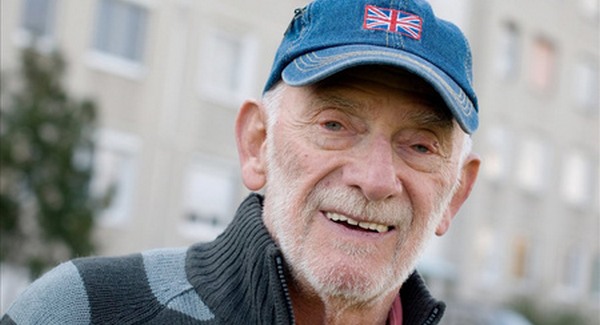 29/02/2012 Ákos Kertész (1), (2), 80, Hungarian left-wing writer, Holocaust survivor and his wife have left Hungary (Europe) for Canada. They have applied for a refugee status there because their life in their homeland was in danger of Nazi threat.
Since the publication of his open letter(8) in the US-based Hungarian-language news website (Amerikai Népszava), Hungarian Nazis have been freely threatening him and even physically attacked him on the street and elsewhere.
That Nazis in Hungary - supported by the far-right government - are freely threatening, attacking a left-wing, Jewish Hungarian writer is not at all surprising. One could think little strange that neither anyone of the "left-wing", "democratic" politicians, nor other public figures (but, maybe, one or two) stood up for their terrified fellow. Just the other way round: they joined the Nazis' chorus. Still, if someone has paid attention to the last 20-years history of Hungary, actually nothing was unexpected.
Since many years, Hungary has been continually violating a Hungarian law containing an international agreement(10), namely the Paris Treaty of peace with Hungary, 1947 - and other international agreements about human rights, too. Since about 1989 all Hungarian governments, parties, politicians and civil organisations as well as public figures have been taking their share of growing the tendency of reviving Nazi ideas, Nazi movements and organizations in Hungary. The process has been speeding up since 2002 when the Fidesz party lost the elections. Since then, the right-wing Fidesz has become far-right because no price was high enough for them for getting back to power. So Fidesz helped strengthening Nazis and for 8 years the parties Fidesz and Jobbik (together with other Nazi groups) have been collaborating with each other for getting and keeping the power.
In the reality, politicians, parties, civil groups, public figures, calling themselves left-wings and/or democrats, have not been doing anything against this tendency, they have just let it. They didn't care it at all. Or they were/are afraid. Their short-term survival was more important for them. Some of them say anti-fascism has no PR value, therefore it doesn't serve their political purpose and/or their media-image so they neglect or even ignore the problem.
For many years, Hungary has not been defending its citizens (Romas, Jews, homosexuals, left-wings, liberals) from anti-Semites, racists, homophobes and Nazis. Especially not nowadays when a far-right party rules and collaborates with Nazis. Going to court isn't good for anything since the judgements almost always favour the far-rights. Most of the cases even doesn't reach the court because the prosecutor rejects them.
The world doesn't care what is going on in a little country in the middle of the Europe in the 21th century. Each country has its own problems. None of them needs diplomatic complication, does it? It is more convenient to close their eyes and ears, to believe that there are no any serious problems and to learn what the Fidesz government pretends.
So what else remains in Hungary for members of threatened groups but emigration?
It is bizarre that Canada is among the signatories of the Paris Treaty, 1947(10). We wonder, whether Canada remembers it when, after masses of Roma people, now also Hungarian Jews apply for refugee status there to escaping Nazi threat - in the 21th century?
____________________
Sources / preludes:
(1)
Ákos Kertész
on the Hungarian Wikipedia (no English version exists):
http://hu.wikipedia.org/wiki/Kert%C3%A9sz_%C3%81kos
(2)
07/09/2011, The Ákos Kertész affair:
http://esbalogh.typepad.com/hungarianspectrum/2011/09/the-%C3%A1kos-kert%C3%A9sz-affair.html
He was born in 1932 and finished high school in 1950 but because of his "bourgeois" origin couldn't enter university. So, he worked on the bodies of Ikarus buses for twelve solid years. On the side he managed to finish university at night. Between 1966 and 1992 he worked at Mafilm where he was a screenplay writer. On the side he wrote several novels which were translated into multiple languages. Between 1994 and 1997 he was editor-in-chief of Élet és Irodalom. He received several prestigious prizes, including the much coveted Kossuth Prize. He was also given the freedom of Budapest. Today, after his bitter words about Hungarians who don't seem to be yearning for freedom and dignity but who let themselves be enslaved by a party and a government Kertész finds abhorrent, Jobbik wants to strip him of his Kossuth Prize and István Tarlós, who in my opinion talks too much and about things he shouldn't, wants to get back the key of Budapest.
(3)
07/09/2011, Row over nation-bashing
:
http://budapost.eu/2011/09/row-over-nation-bashing/
(4)
14/09/2011, Writer withdraws comment about "subservient" Hungarians after government threatens to take away Kossuth Prize
:
http://www.politics.hu/20110914/writer-withdraws-comment-about-subservient-hungarians-after-government-threatens-to-take-away-kossuth-prize/
(5)
22/09/2011, Budapest assembly votes to revoke honor given to controversial author Kertész
:
http://www.politics.hu/20110922/budapest-assembly-votes-to-remove-akos-kerteszs-city-honour/
(6)
22/09/2011, Ákos Kertész loses honorary citizenship:
http://budapost.eu/2011/09/akos-kertesz-loses-honorary-citizenship/
(7)
22/06/2011, about Ákos Kertész' affair:
http://www.signandsight.com/features/2188.html
In September [2011], the Hungarian writer and Holocaust survivor Akos Kertesz wrote a desperate open letter(8) (published in the left-leaning daily Amerikai Nepszava) about the state of his country in which he reviled the Hungarian people as "genetically inferior" (more here). A storm of outrage followed and the heated debate ended with the writer having his honorary citizenship to Budapest revoked. (Magyar Narancs 06.10.2011)
(8)
29/08/2011, Ákos Kertész: Open Letter
To
Amerikai Népszava
("The Hungarian American People's Voice and Liberty" in short: "American People's Voice" ): Kertész Ákos nyílt levele az Amerikai Népszavához the URL of the first publication was:
http://nepszava.com/2011/09/velemeny/kertesz-akos-nyilt-levele-az-amerikai-nepszavahoz.html
but, unfortunately, the editors have moved the article to another URL several times. At the moment it can be found here:
http://nepszava.com/2012/03/velemeny/kertesz-akos-nyilt-levele-az-amerikai-nepszavahoz.html
(9)
26/09/2011, Author, top cop stripped of honours:
http://webcache.googleusercontent.com/search?q=cache:iwL_oVGYTUwJ:budapesttimes.hu/index.php%3Foption%3Dcom_content%26task%3Dview%26id%3D20520%26Itemid%3D30&hl=en&client=firefox-a&strip=1
Budapest City Council voted on Wednesday to strip the left-wing writer Ákos Kertész of his honorary citizenship. The head of the council's right-of-centre Fidesz-Christian Democrat faction, Zsolt Németh, had made the proposal on the basis of remarks Kertész made in an open letter to a US-based Hungarian-language news website.

Amid flames of protest fanned by far-right and government lawmakers, Kertész withdrew a remark that "Hungarians are genetically servile" but not his argument that Hungary had failed to face up to its crimes during the Holocaust.
Also stripped of a civic honour was former Budapest police chief Péter Gergényi. A far-right Jobbik councillor had argued that Gergényi was unworthy of the Budapest Prize (awarded in November 2006 for "intensive and innovative work in the interests of strengthening public safety in the capital") and a related medal. The nationalist opposition and the governing conservative alliance both accuse the police of brutality in the suppression of riotous protests against the former Socialist government.
"Gergényi committed huge professional errors when officers under his command, not wearing identification numbers, assaulted innocent civilians," deputy mayor István György argued when a Socialist councillor protested that the move was politically motivated. Lawyers are looking into the possibility of forcing Gergényi to pay back a cash prize that came with his awards.
At the moment, this article can be retrieved only from Google's cache. On the website of
The Budapest Times
the article cannot be found any longer. (What a strange thing: "
the staff of The Budapest Times is led by Canadian
")
(10)
Treaty of peace with Hungary. Signed at Paris, on 10 February 1947:
http://antifa-hungary.blogspot.com/2011/10/paris-peace-treaty-1947.html